Our story starts with truth
Our company name was born from the Latin "veritas," meaning "truth." So whether we're working with physician practices, complex health systems, not-for-profit medical centers or Level 1 Trauma centers, truth serves as a guiding light for all the decisions we make. We believe truth and accuracy are the two principles that enable quality patient care and the highest level of protection, and so we've let those values inform our decisions at every point within our organization.
Our expertise may lie in ROI, but our experience is human to the core. Learn more about what makes us a different kind of disclosure management company.
Our leadership and advisement team is a group of strategic thinkers that are working together to give our clients the tools, technology and professional support they need to succeed in this ever-changing environment.
Marty McKenna – Chief Executive Officer
As President and CEO of Verisma, Marty McKenna is responsible for the day-to-day operations of the company. Marty has a proven executive management track record and over 20 years of experience in driving innovation and growth in the healthcare information and technology marketplace. Prior to his role with Verisma, Marty held multiple leadership roles in healthcare IT as the President of Allscripts Analytics, LLC and as leader of Operations and Marketing for dbMotion, Inc. Leading up to that role, Marty held multiple leadership roles of increasing responsibility in healthcare information technology. Marty served as Global General Manager for General Electric's suite of perioperative information technology solutions, Global Integration Manager for multiple acquisitions and global consulting and service leader for GE's clinical information systems business. Marty holds a Bachelor's and Master's degree in Electrical Engineering from Purdue University and a Master's in Business Administration from the University of Chicago. Marty is a certified Six Sigma Black Belt and holds several software patents in healthcare information technology.
Jim Matas – Chief Financial Officer
In 2017, Verisma welcomed aboard Jim Matas as Chief Financial Officer. Prior to joining Verisma, Matas was the CFO of Precyse Solutions, Inc., a leading Health Information Management technology-enabled services company, where he led the finance, legal and compliance functions and worked extensively with investors and the Board of Directors. Matas' leadership as a member of the Executive Team helped Precyse navigate a period of rapid growth with a tripling of revenue and developing a strong recurring revenue model. Before Precyse, Matas was the CFO of Investor Force, Inc., a venture backed firm that developed technology solutions for the financial services industry, and held various senior financial positions at IMS Health, Inc. in both the U.S. and Europe. IMS Health is the global leader in pharmaceutical market information. Matas holds a Bachelor of Sciences Degree in Accounting from The Pennsylvania State University and a MBA with a concentration in pharmaceutical marketing from St. Joseph's University. He is also a Certified Public Accountant and a member of the AICPA and PICPA.
Dave Collins – Chief Technology Officer
Dave Collins, who has been affiliated with Verisma in a consulting role since 2003, joined the company's senior management group in early 2009. The architect of the company's patented, Web-based Record Jacket® Release Manager technology platform, Mr. Collins has many years of extensive experience in the technology and business worlds. Included in that experience were seven years at Best Software (now Sage Software), where he served as Chief Technology Officer and Vice President of Product Development for the Customer Relationship Management division. During his tenure at Best Software, Mr. Collins developed and launched new products as well as upgrades to ACT! (a contact management program used by over 3 million small business owners) and upgrades to SalesLogix (a Customer Relationship Management system used by over 7,000 companies worldwide).
Andy McManus – Founder and Executive VP
Andy McManus started Infotrak Record Management, LLC, in 2002 as the health care division of Syracuse, New York-based Avalon Copy Centers of America. Mr. McManus led the company through several years of impressive company growth before Infotrak was acquired by Verisma in the fall of 2007, and he has continued to play critical roles in the accelerating expansion of the company's business. Before Infotrak, Mr. McManus held the position of North American Sales Manager for the Digital Video Products division of IBM, a global products group. Responsibilities included managing a $10 million sales territory with a varied distribution channel and as global marketing manager for a commercial chip line. Other experiences include successful positions as a marketing and sales manager for a rapidly growing technology marketing firm with clients such as IBM, Corning Fiber Optics and Universal Instruments, and as western U.S. regional sales manager for a computer storage manufacturer with clients such as Intel, Microsoft, NASA and Boeing.
Anupriyo Chakravarti – CIO and SVP, R&D
Anupriyo Chakravarti joined Verisma Systems, Inc. in 2017 as the Senior Vice President of Research and Development. Anupriyo brings 25 years of experience as a highly effective leader in healthcare IT product management and software development for both Fortune 500 companies and startups. Anupriyo joined Verisma after serving as vice president of product management and marketing at McKesson, where he led the product management and marketing functions of the Extended Care Services (ECS) business unit. Before McKesson, he worked for eleven years at Surgical Information Systems (SIS), where he lead software development, and ultimately product management, to deliver solutions for the surgery and anesthesia departments at health systems and ambulatory surgery centers. Prior to working with SIS, Anupriyo worked for Arthur Andersen, Ryder Dedicated Logistics, IBM and TATA Motors. Anupriyo has a bachelor's degree in Mechanical Engineering from IIT Roorkee in India.
Julia Applegate – SVP, Client Operations
Julia Applegate is the Senior Vice President of Client Operations with Verisma and is responsible for the overall management and delivery of strategic operations of our customers nationwide. She has over 20 years of management experience in release of healthcare information practice with thousands of successful client implementations during her career. Prior to her role with Verisma, Julia served as the VP, Operations for HealthPort Technologies for over a 10-year period. She is a member of the American Health Information Management Association and Healthcare Financial Management Association.
Mike Salsbury – Counsel and Privacy Officer
Mike Salsbury joined Verisma in September 2017 as Corporate Counsel and manages all legal and compliance matters for the company. His most recent position prior to Verisma was as Chief Legal Officer of Best Doctors, an expert medical review company, which was acquired by Teladoc Health in 2017. Salsbury also has served as Executive Vice President and General Counsel of MCI Communications Corp., and has been a partner at Jenner & Block and at Chadbourne & Parke. He is a graduate of Dartmouth College and received his J.D. and M.B.A. degrees from the University of Virginia.
Jim Staley, CISSP – Chief Information Security Officer
Jim Staley joined Verisma Systems, Inc. as the CISO in December 2019. Jim brings more than 20 years of experience in IT and IT Security to Verisma, including leadership roles in software development and IT operations at Fortune 500 companies like CapitalOne, T-Mobile, and Owens and Minor. Jim has been focused solely on cyber security since 2014, including founding and running his own security consulting company (which is how he began working with Verisma). Jim is responsible for all aspects of Verisma's Security Program, which includes maintaining the company's annual SOC 2 Type II certification as well as leading the company's efforts to become HITRUST certified. Jim is also responsible for day to day IT Security Operations, and leads the company's enterprise Portfolio Management Office. He earned his CISSP certification in 2019, and in his spare time is working towards an OSCP certification.
Sharon O'Donnell – Vice President of Human Resources
Sharon O'Donnell joined Verisma Systems, Inc. in 2018 as the Vice President of Human Resources (HR). Sharon brings nearly 20 years of HR experience from small and large organizations in the tech, consulting, legal and association fields. Sharon's most recently served as head of HR at the Consumer Technology Association (CTA), a standards and trade organization where she improved the evaluation, training and performance management processes for the company. Prior CTA, she worked at iDiscovery Solutions, Inc. (iDS), an eDiscovery Consulting start-up. While there, the company tripled in size, implemented processes and policies, won several Smart CEO awards and opened offices in four states. Prior to working with IDS, Sharon worked for Dickstein Shapiro, a one-time AMLAW 100 firm. She led the Staff Recruiting and Professional Development departments and became the Firm's Affirmative Action Officer. Sharon has a bachelor's degree in Organizational Management from Columbia Union College and a Senior Professional in HR (SPHR) certification from the Society of HR Management (SHRM).
Mitchell Abeln – Vice President, FP&A
Mitchell joined the Verisma team in 2017 to lead the Financial Planning & Analysis (FP&A) efforts for Verisma. Mitchell brings over 10 years of experience as an experienced FP&A leader for both Fortune 500 companies and start-ups. Abeln holds a Bachelor of Sciences Degree in Managerial Economics from the University of California, Davis and an MBA with a concentration in strategy from IESE Business School, Barcelona. He also earned the Chartered Financial Analyst (CFA) designation in 2013.
Timothy Geraghty – National Vice President of Sales
Tim Geraghty is the National Vice President of Sales with Verisma. He has over 13 years of experience in the release of information industry, where he has developed hundreds of successful partnerships with healthcare systems and ambulatory practices throughout his career. Prior to his role at Verisma, Tim served as the VP of Sales for HealthPort Technologies/Ciox Health and served as a Digital Healthcare Executive for Iron Mountain, consulting with Fortune 500 companies and healthcare organizations. He is active in the Health Information Management community and has developed strong partnerships with many of the state and local AHIMA chapters throughout the country. Tim serves on the board of directors for the Fighting H.A.R.D. Foundation, a non-profit organization that supports children battling rare diseases or chronic illnesses.
Marcy Caudill – VP, Client Operations
Marcy Caudill is the VP, Client Operations and joined the Verisma team in 2017. Marcy is responsible for integrating the company's service delivery capabilities across the organization with a focus on growing, strengthening and retaining client relationships. She brings nearly 25 years of experience in Health Information Management to her position with Verisma. Having served in various leadership positions throughout the ROI industry, her most recent role was Vice President of Operations at Ciox Health, where she was responsible for overall operations and customer management and involved in implementing ROI services to many large health systems throughout the country.
Linda Kloss, MA, RHIA – Regulatory Policy Leader, Disclosure Management
Linda is a member of Verisma's Strategic Advisory Board and provides insights on health information public policy and best practice strategies for providing our clients with fully compliant disclosure management solutions. Ms. Kloss served as CEO of the American Health Information Management Association (AHIMA) from 1995 to 2010. In 2011, Kloss was appointed by the Secretary of the US Department of Health and Human Services to serve on the National Committee on Vital and Health Statistics (NCVHS) and currently co-chairs its Privacy, Confidentiality and Security Subcommittee. Now, as principal for Kloss Strategic Advisors, Linda Kloss consults, speaks, and writes on information governance, strategy and organization development, and change leadership.
Our training and compliance program is designed with both our clients and our employees in mind. It keeps our team current on our technology and processes, applicable federal and state regulatory requirements, including those imposed by HIPAA and the HITECH Act, and on the policies and procedures of our clients that relate to their jobs. The goal of this extensive training is to provide you with an exceptional release workflow process and the expertise you can't get anywhere else.
As part of our commitment to providing the most expert, knowledge-based release management solution in the industry, we have launched a sophisticated web-based training program that provides 24/7 access to training material across multiple educational tracks.
Our employees receive client-specific training, starting with the implementation process, to better understand and incorporate our clients' specific ROI policies and procedures into the daily workflow.
All Verisma employees attend mandatory monthly training ranging from HIPAA to product updates and releases.
Privacy and Security
The security and handling of protected health information (PHI) of our clients is paramount to the technology and services we provide. We are committed to complying with all applicable federal and state laws pertaining to the privacy and the confidentiality of PHI and will maintain the highest safeguards to prevent unauthorized access and disclosures.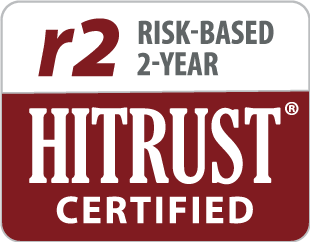 Our HITRUST certified Verisma Release Manager™ platform has been built around the most stringent security protocols with optimal performance and uptime, and designed to protect all sensitive data at rest and data flowing between health systems and our infrastructure. All PHI is secured in transit using TLS and SSL encryption and PHI at rest is encrypted with AES256 encryption.